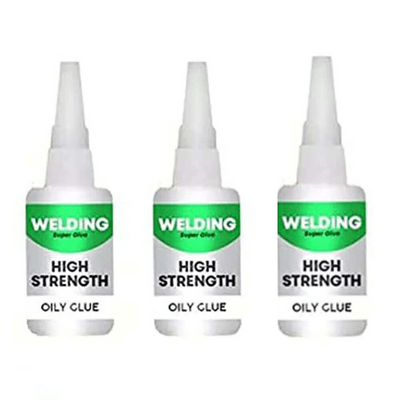 3Pcs Universal Super Glue, Super Strong Glue, Welding High-Strength Oily Glue
3Pcs Universal Super Glue, Super Strong Glue, Welding High-Strength Oily Glue, M
Features:
Impact Adhesive: Unique fluid helps penetrate the finest micro-cracks, pores and crevices to increase impact resistance and strength in depth. Never lose adhesion.
Instant-Drying Glue: This innovative glue repairs virtually any damaged item in any material, sticks to anything that can possibly be repaired in 15-30 seconds, and dries without a strong smell.
Soft and Strong: Keep your items pristine by gluing their loose ends back to their normal shape. Unlike regular glue or cement glue, oil-based glue does not harden or become brittle over time.
Precise application: Needle-point nozzle, precise application without dripping or leaking. The extra-long tip makes it easy to apply to hard-to-reach surfaces.
Universal Glue: Works on a variety of surfaces including metal, leather, cork, ceramic, wood, particleboard, paper, cardboard, rubber and most plastics. Can be applied to flat, vertical, uneven and overhead surfaces.
Product Description:
Instructions:
1. Open the lid to use.
2. Do not squeeze the side of the bottle, so as to avoid a lot of glue flowing out.
3. Make sure the bonding area is dry and the application surface is clean.
4. Apply a little glue on the surface of the adhesive, align and firm to provide a certain thickness and strength.
Specification:
Net content: 50 grams
Color: transparent
Temperature range: -50~100℃
Notes:
1. Be careful not to get into eyes or mouth.
2. Keep it out of the reach of children to avoid danger.
3. Be careful not to apply with your fingers.
4. Not available.
Warm reminder:
1. Due to manual measurement, please allow slight measurement deviation.
2. Due to different display and lighting effects, the actual color of the item may be slightly different from the color shown on the picture.