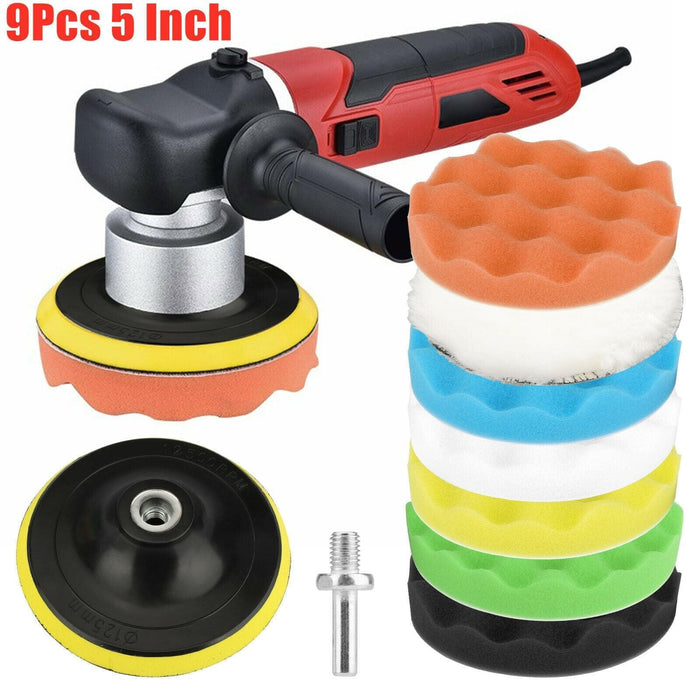 5 Inch Car Buffing Pads Polishing for Drill Sponge Kit Waxing Foam Polisher Pack of 9
Product Features
⚡ Package Includes: There are 6*polishing pads, 1*premium wool pad, 1*drill thread Adapter, 1*thread backing pad. Polishing pads are washable and reusable.
⚡ Large size and large area polishing: 5-inch polishing area, can greatly improve the polishing efficiency of the large area. It is the best choice for large cars and Boats.
⚡ Application: It is suitable for coat paints' waxing, polishing and sealing glaze of various coating waxes, cleaning and improving its brightness; it can also be used for fine polishing of car, trolleys, and yacht. It is more easy and convenient to change the pad.
⚡ Efficiently: Professional wool and foam pad polishing and combination. Efficiently cut and polish the most difficult coatings and scratches. Can be used in drills or polishing machines.
Product Specification
| | |
| --- | --- |
| Type | 9pcs Polishing Pads Kit |
| Material | Sponge |
| Outer Diameter | 125 (mm) |
| Applicable Disk Diameter | 1250MM |
| Maximum Speed | 3500 (rmp) |
| Scope of Application | Car beauty waxing, lacquer polishing |
| Thickness | 25-30 (mm) |
| Granularity | 80 (mesh) |
| Hardness | 30 |
Package Included
🎁 6 x 5Inches Foam Polishing Pads (Blue Polishing Pad, Yellow Polishing Pad, Orange Polishing Pads, Black Polishing Pads, White Polishing Pads, Green Polishing Pads)
🎁 1 x 5Inches Drill Adapter
🎁 1 x 5Inches Thread Backing Pad
🎁 1 x 5Inches Woolen Buffer