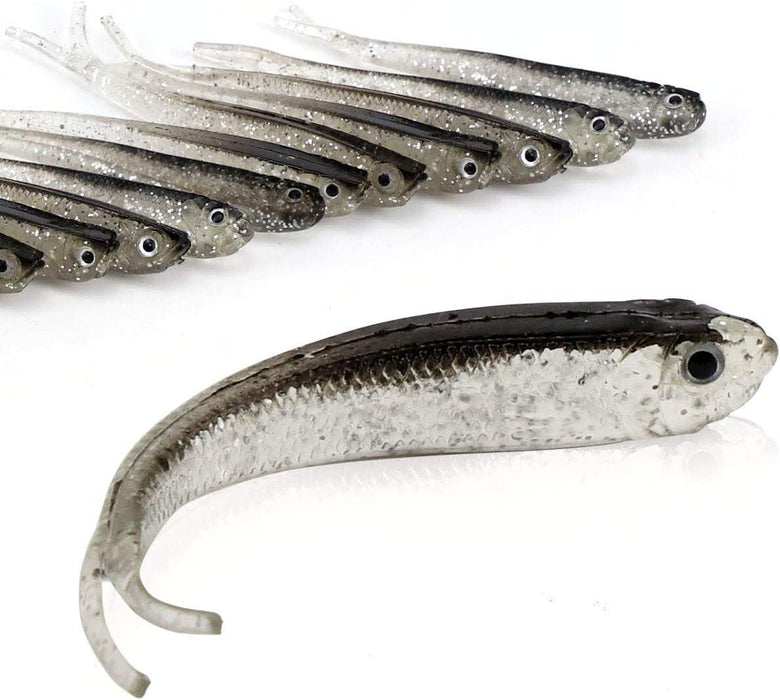 Fishing Lures Bass Bait, Soft Plastic Split Tail Lure Set -24pcs
This Fishing Lures Bass Bait set has 24 pieces of soft plastic split tail lures. The lure set is designed to resemble natural prey, helping you increase your catch rate. The tail action simulates a swimming action in the water, attracting bass instantly.
What you get
What You Get: 24pcs soft fish baits, 2.95in long, 0.08oz weight. With sufficient amount of silicone baits in a package, anglers are free from worrying about inadequate needs.

Soft Jerk Bait: Made from quality soft plastic material, the fishing lures are durable, reusable, and particularly bite resistance Some oil like scented attractant attached the whole body make lure so smooth and alluring that fisheyes may come off easily, not affecting the normal usage.

Lifelike Look: The soft lure features cool 3D fisheyes, a lively split tail, bright luster, and sequins inside, sparking underwater. Lifelike 3D body with split tail design makes smooth and natural swimming action.

Target Fish: Great for bass, panfish, pike, walleye, perch, musky, redfish, crappies, trout, striper, mackerel, catfish, carp and more.

Recommended Fishing: Suitable for saltwater / freshwater fishing. Can be used with Jig head rig and other rigs.
1. Fishing Lures
2. Bass Bait
3. Soft Plastic
4. Split Tail Lure
5. Fishing Lure Set
6. Bass Fishing Lure
7. 24pcs Soft Lure
8. Fishing Tackle 9.
Bass Fishing Tackle
10. Soft Plastic Lure