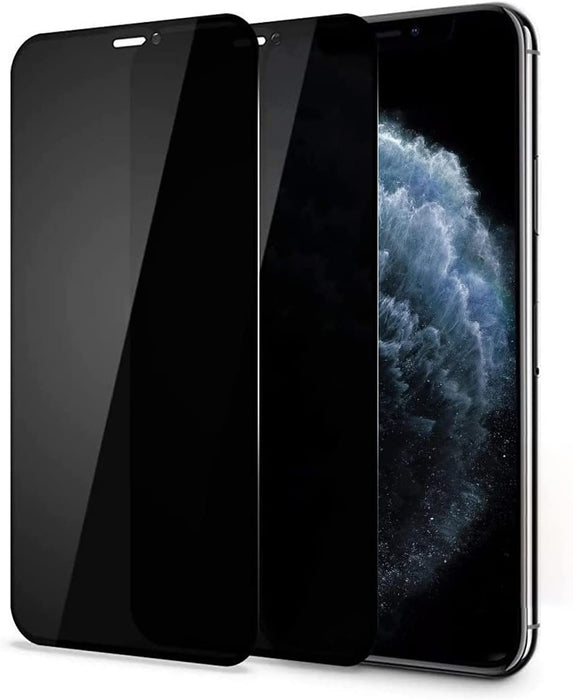 Full Cover Privacy Screen Protector For iPhone Full Cover Anti-Spy Screen Protector For iPhone 11 12 13 PRO MAX 14 Pro 8 Plus XS Max XR Tempered Glass
About this item
💝【True 28°Anti-spy Protection】- Screen is only directly visible to an immediate user (in front of the screen), effectively protecting your personal privacy from people near you who may be peeking from your left and right. (28° partial peep-proof, 45° entire peep-proof). Good choose when you are in the bus, elevator, metro or other public occasions.

💎【99.99% HD Clear】- Ultra-clear material makes the iPhone  privacy screen protector retain amazing clarity for viewing experience. The High-quality design and engineering, coupled with durable tempered glass helps to deliver just the perfect brightness, sharpness, and crisp detail you'd expect from your phone screen.

💪【Reliable Quality】- This privacy iPhone glass screen protector is coated with a hydrophobic and oleophobic clear layer with 9H hardness tempered glass, protecting your iPhone's screen from daily wear and tear like accidental scratches, small falls, bumps, and even fingerprints and smudges.

💯【Touch Sensitive】- Glass composition means your finger glides smoothly over the iPhone 11/ iPhone XR privacy tempered glass screen protector, just like it does over your device screen. The super-thin glass preserves touchscreen sensitivity allowing it to respond accurately to your touch.

🎁【Easy Installation】- Our privacy screen protector is designed for your iPhone 11/ iPhone XR 6.1 inch display, totally case friendly due to its open-edge design. It is dual packed and comes with an auto-alignment installation frame for effortless adhesion.
Full Cover Anti-Spy Screen Protector For iPhone 11 12 13 PRO MAX Privacy Glass For iPhone 14 Pro 8 Plus XS Max XR Tempered Glass