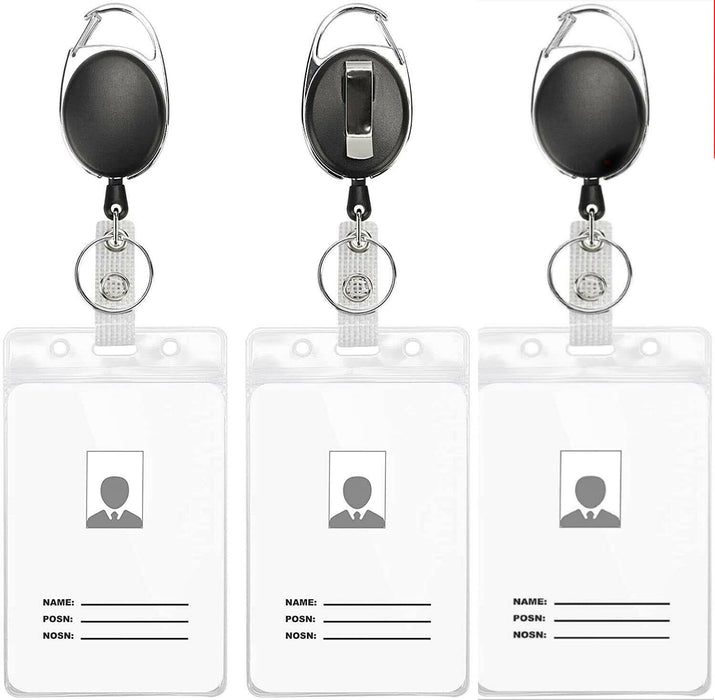 Lanyards ID Badges Reels Retractable Clear Name Work Card Holder Clip Pack of 3
3 Lanyards ID Badges Reels Retractable Clear Name Work Card Holder Clip Vertical
Multipurpose Retractable Badge Holders – Designed for personal and professional use each bundle comes with three ID holders for badges and three carabiner clips with nylon-threaded reels to support IDs, name tags, guest passes, or keycards.
Resilient, Heavy-Duty Construction – Our ultra-clear retractable badge holder with clip set is crafted with a sturdier shell and upgraded grid tape to provide a stronger, more reliable sleeve with load bearing that can even support up to 7 home or office keys.
Quick Access, Clip-On Carabiner – These Or rope
ID badge holders retractable can be clipped onto a wide range of different clothing or items for quick, convenient access including a belt loop, school bag, lab coat, business suit jacket, and much more.
Supports Everyday Work Lives – Strong, versatile, and great for vertical card storage these clear ID card holders are ideal for medical professionals, office staff, factory workers, teachers, security personnel, maintenance, nurses, and other industries.
Stronger Clip and Pull Rope – We made Or rope retractable ID badge clip to stand up to tugging and pulling each and every day, so you can always rely on it holding up your badges, keycards, keys, and other vital information with lasting reliability.