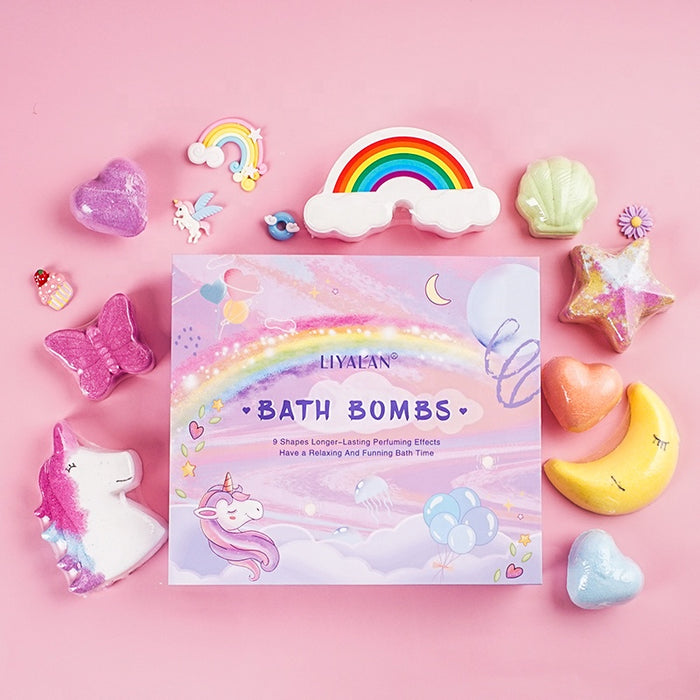 Organic Bath Bomb Kit Gift Set Colorful Bubble Fizzy Cloud Rainbow Bath Bombs Vegan
This Organic Bath Bomb Kit Gift Set is a perfect gift for anyone who loves to pamper themselves in a luxurious and eco-friendly way. The set includes a variety of colorful and fragrant bath bombs that will fill your bathtub with bubbles, fizz, and clouds of color. Each bath bomb is made with all-natural ingredients and is vegan, making it gentle on sensitive skin. The Rainbow Bath Bombs is a fun and vibrant addition to any bath, and the set comes beautifully packaged, ready to give as a gift. Indulge in the ultimate self-care experience with this Organic Bath Bomb Kit Gift Set.
Indulge in the ultimate bath time experience with this luxuriant Organic Bath Bomb Kit Gift Set. Richly pigmented and made with the finest vegan ingredients, this collection of colorful bubble fizzy cloud rainbow bath bombs offers a delightful sensory escape for a truly luxurious, calming experience.
This bath bomb gift sets is on many wish list. Great Mothers day gifts. Best Gift Idea for Fathers Day gifts, birthday gift, gifts for her, spa/bath gifts, for the special one, perfect gifts for mom, wife, girlfriend or women you love.
Moisturizing skin care: Rejuvenates and nourishes the body with lush aromatherapy that smoothens the skin and leaves a feel-good result.
Enjoy a relaxing and moisturizing Spa treatment with a bath bomb gift set made from a variety of your favorite dried flowers - fizzes with colors, will not stain your tub!