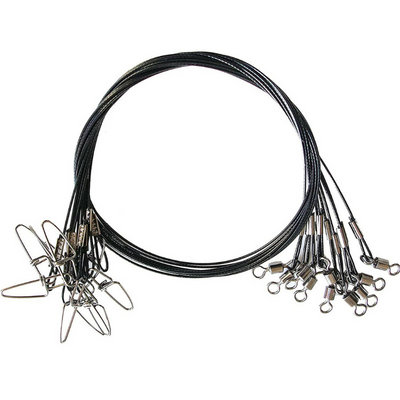 Stainless Fishing Wire Steel Leaders Line 19.68 In 125 Lb Heavy Duty Snaps 20 Pc
Stainless Fishing Wire Steel Leaders Line 19.68 In 125 Lb Heavy Duty Snaps 20 Pc
Saltwater Fishing Leader Wire: Heavy duty fishing leader wire can support a lot of weights (up to 125lb tested), holding up bottom big fishes in deep sea, especially toothy This Stainless Fishing Wire Steel Leaders Line offers 19.68 inches of heavy duty 125 lb capability and includes 20 snap-on pieces. Designed for long-lasting performance, this wire and leader set is a reliable fishing accessory for anglers of all levels. like pike, catfish, dogfish, trout, salmon etc.
Good Steel Leader Wire: Withstand pulling force when fish been caught, resulting in fewer break-offs. Commonly use in saltwater and freshwater.
Sturdy and Strong: Crafted by nylon-wrapped 7 strands steel wire braided, it features particularly bite resistance, stays well in heavy weeds, rocks and fish battles without being cut with any teeth.
High Strength Swivel & Snap: Each fitted with a 0.83in flexible rolling swivel on one end, making greater presentations of the lure, while 1.2in snap clip on the opposite end that tightly holds your hook or lure and offers more convenience for lure changing.
What You Get: 20Pcs saltwater fishing leader wire, lengths in 19.7in with 1mm diameter, all packed together with a twist tie.
1. Stainless Fishing Wire
2. Steel Leaders Line
3. 19.68 in
4. 125 lb
5. Heavy Duty Snaps
6. 20 PC
7. Fishing Wire Leaders
8. Fishing Line Leaders
9. Heavy Duty Fishing Line
10. Stainless Steel Leader Line
11. Fishing Leader Line
12. Fishing Line Snaps
13. Fishing Wire Snaps
14. Stainless Steel Snaps
15. Fishing Accessories
16. Fishing Tackle Accessories
17. Leader Line Snaps
18. Leader Line Connectors
19. Leader Line Swivels
20. Fishing Gear Snaps